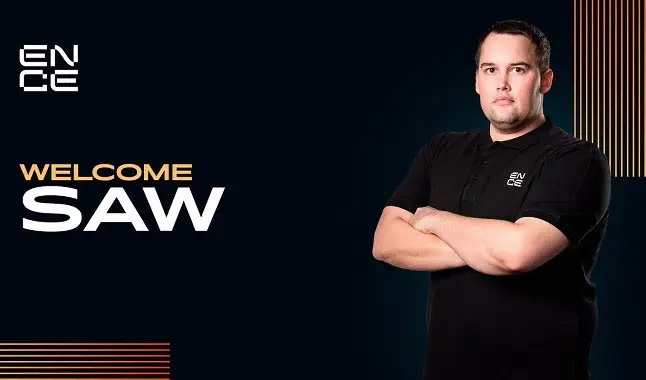 The team HAVU ex-capitan, "sAw", will be the new coach for ENCE; check the details.
After the departure of coach Slaava "Twista" for using the coach bug, the former captain of HAVU, "sAw", will be the new coach of ENCE. In addition, the player "doto" will be part of the Finnish team as well.
Eetu "sAw" Saha has been captain of HAVU since 2018, but was never given the opportunity to act as a coach. Despite this, "sAw" had mentored the team in early 2020.
"He has now decided to stop being an active player at HAVU and move to the position of coach and take on the responsibility of joining ENCE's CS: GO team in order to move up the ranks again" - declared the organization in an announcement.
Meanwhile, the signing of the player Joonas "doto" Forss was a method to reinforce the ENCE squad, which was absent with the departure of Jani "Aerial" Jussila. In an interview, "doto" reported that leaving HAVU was a difficult time in his life: "We went through a lot together. We were stuck in the US for a month and a half and we knew each other very well. It was a difficult decision to make, but I see it as a necessary opportunity in terms of continuing my career. You really don't have that chance often."
Both "sAw" and "doto" gained a lot of relevance this year while still working for HAVU. Both managed to guide the team to occupy the third position in the Flashpoint 1 championship, which guaranteed them the amount of US $100.000.
Finally, the new coach "sAw" will put the mouse aside and accept this new stage of commanding ENCE: "Today marks a new chapter in my life, as I will finish my playing career and move on to a coaching role. It's a possibility that I've been thinking about for some time."
ENCE is scheduled to face Astralis next Friday (13th) within the IEM Beijing-Haidian 2020 Europe competition. The organization will be part of Group B of the tournament, which has a total of 16 teams in the dispute.

Aleksi "⁠allu⁠" Jalli
Jere "⁠sergej⁠" Salo
Miikka "⁠suNny⁠" Kemppi
Elias "⁠Jamppi⁠" Olkkonen
Joonas "⁠doto⁠" Forss
Eetu "⁠sAw⁠" Saha (coach)
Meanwhile, the HAVU squad has three absences, with only the following players active:
Lasse "⁠ZOREE⁠" Uronen
Olli "⁠sLowi⁠" Pitkänen
Sami "⁠xseveN⁠" Laasanen
Taneli "⁠disturbed⁠" Veikkola (coach)