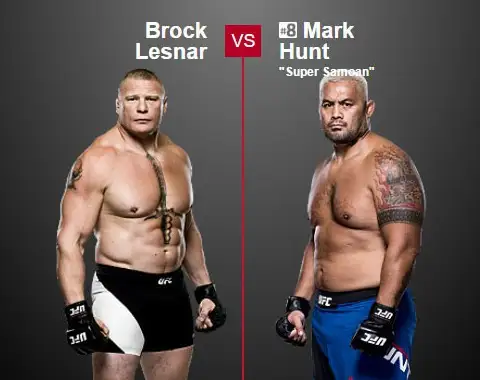 Brock Lesnar returns to the UFC after almost 5 years away from the octagon. This American fighter is known for his tremendous size, standing out even amongst other heavyweight fighters.
Although he hasn't fought that many times in the UFC, Brock Lesnar made a good impression by beating Randy Couture in 2008 and winning the title. He defended his title beating Frank Mir and Shane Carwin, but lost it to Caín Velásquez, having been knocked out in the first round. Brock Lesnar's last UFC fight was against Alistair Overeem, who dominated and beat Lesnar.

After that Brock Lesnar announced his retirement. However, he is now back, because the UFC has always made it clear the door would always be open for his return. Although he is a former champion, he hasn't fought in the last 5 years and is older, so he shouldn't be as powerful as he used to be. Moreover, he is up against a strong fighter.

Mark Hunt is a 42 year-old New Zealand fighter. He has an MMA record of 12 wins and 10 losses, which isn't all that great, but Mark Hunt is an exciting fighter who has had legendary heavyweight fights that date back to Pride.
Although he is also a veteran, Mark Hunt is still a well fit fighter and only lost 3 of the last 10 fights, having been beaten by former champions Junior Cigano and Fabrício Werdum and by the current champion, Stipe Miocic. In the last 2 fights ha has beaten Frank Mir and Antônio Pezão. HHe is a strong striker with great knockout power, which he has used before to win fights with one punch.

Brock Lesnar's advantage is his height, 1.91m, against Hunt's 1.78. However, Mark Hunt should be in a better shape, since he has fought regularly (he fought a total of 9 fights since Lesnar announced his retirement). Therefore, he should have more speed and power than Lesnar. Brock Lesnar knows he needs to use his strength early on, because it will be a lot harder to win in the 2nd or 3rd rounds. Mark Hunt is the favourite and should win this fight, since Lesnar will risk it all in the first round, which means he'll will or be beaten in the first minutes of the fight.
Betting Suggestion:
Under 1.5 rounds – 1.45 – Bet365
Recommended reading: "Tips to Bet on the UFC"