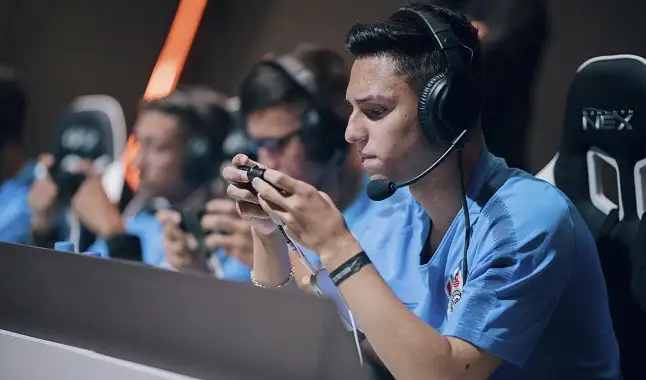 Find out how to become a Free Fire pro.
The professional world of electronic sports is a market that has become very constant in recent years. However, for some time now, the dream of becoming a professional in eSports has been a reality for young people in the sport, but it wasn't always like that. Some time ago, it was necessary to have a good console or a very good computer to gain recognition in the sport. However, thanks to the entry of mobile platforms on the market, things have changed, and for the better.


Today,
Free Fire
has enabled many young people to have access to electronic games, as anyone with a smartphone can run the
Battle Royale
published by
Garena
. Thus, the dream of becoming a
Free Fire
professional grows with each passing day. However, the life of a pro player in
Free Fire
is not easy.
The routine of professionals in the sector is usually very demanding.
Free Fire
has a full range of championships that happen all the time, so for the professionals in the field, being always available is of paramount importance to ensure its consolidation in the competitive scenario of
Free Fire.
In other words, working, studying and dedicating to training within the game becomes something very complicated for young people. In addition, there is also the family part. Having family support at these times is a great help for a future professional in the area.
The start
The starting point to become a
Free Fire pro
is to understand that everyone started the game as a hobby or a hobby with friends. But many of these players found that they had constant evolution in every game they played. With that, interest in the competitive scenario became real.
So, if you've already seen this in your life, it's time to get in touch with small teams in the scene. As already said,
Free Fire
has many championships that happen all the time, from small championships to huge ones.
Through this, you can request a test to compete in a
regional championship
that is to be able to reach other positions in the scenario.
Free Fire
opportunities are always present in the game. There are
scouts
always looking for new talent for teams that already exist in the modality.
Therefore, if you manage to make it to these
tryouts
, you will become a talent on the team, occupying a
semi-professional
role. From there, you will begin to understand how a professional player's routine system works, such as training, rules, socializing with team players and public relations.
It is also worth noting that from this point on, many teams train in Gaming Houses, houses where players start to live and socialize with other colleagues. These
Gaming Houses
are the places where all the training concentration and even participation in championships take place. Through them, you will have to distance yourself a little from your family and friends, building a training routine with your teammates.
At first glance, this may seem difficult, but with persistence and dedication you can create a solid structure for your professional
Free Fire
resume. So giving up is never an option. We know that the
professional world of eSports
is very competitive, but with effort, dedication and some sacrifices of your leisure, you will be rewarded. Being an
eSports professional
is like any other job, it takes a lot of attention, time, study and technique to be able to perform well in this world.
Therefore, the choice will always be yours. For you, is it worth giving up so many things to achieve
your dream
?
Bet from wherever you are in eSports through the best online bookmakers!